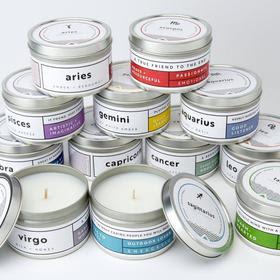 Zodiac Candle
Regular price $16.00 Sale
Who doesn't love a thoughtful gift that highlights their best qualities? These Zodiac Candles are sure to be a hit with customers looking for a personalized gift.
Each candle features the positive personality traits of an astrological sign, paired with a matching scent. No matter if you follow horoscopes, these soy blend candles will delight everyone with their positive messages. Design incorporates the 4 zodiac elements of earth, fire, water and air.
Wax and Wick:  soy coconut blend candle with cotton wick

Fragrance:  essential oil based fragrances, click on the Special Scentstab for descriptions

Dimensions:  3.25" W x 3" H

Burn time: about 35 hours

Container: recyclable aluminum 

Each candle is handpoured in the U.S. and comes with a storycard about the woman who made it.