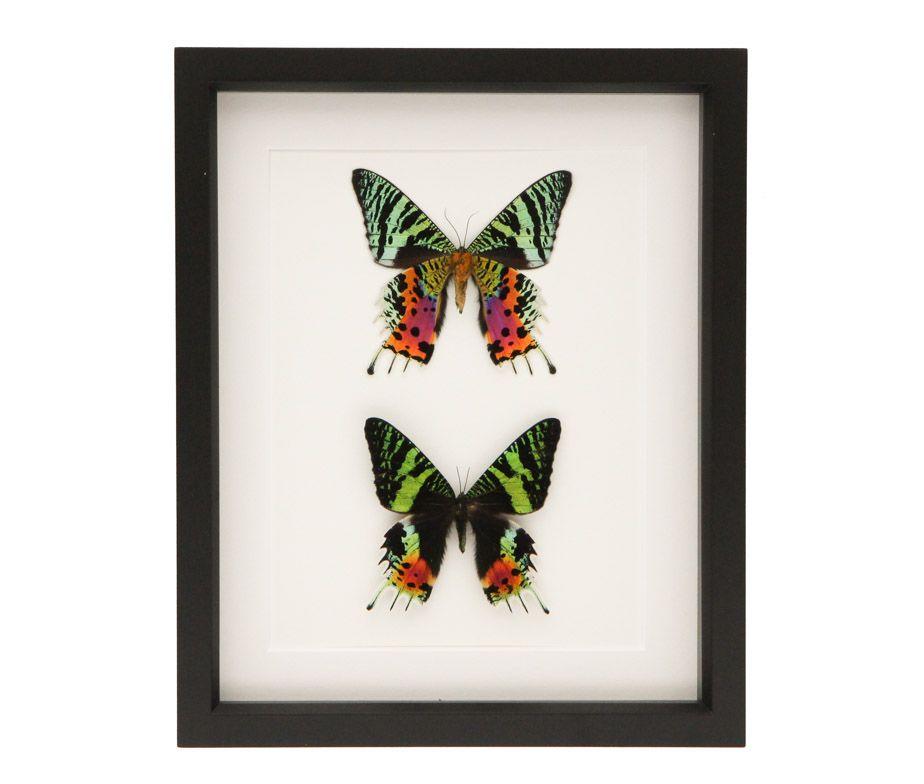 Moth - Madagascar Sunset Set
Regular price $88.00 Sale
COMMON NAME: Madagascan Sunset Moth
SCIENTIFIC NAME: Urania ripheus / Chrysiridia rhipheus
LOCALITY: Madagascar
FRAME SIZE:  9″ x 11″ x 1.25"
The framed Sunset Moth collection features a stunning day-flying moth from Madagascar mounted displaying the bottom (versal) and top (dorsal side).   The wings were widely used in jewelry in Victorian England. Most of the wing scales are actually unpigmented and covered with many clear scales with the multicolored appearance occurring due to the structural components of the scales and the movement of the wing.
What sets our frames apart from the rest?
• 99% UV blocking conservation glass so colors won't fade.*
• Acid & lignin-free conservation mounting papers.
• Gallery quality wood shadowbox frame with hanger
• Natural history information on antique-style museum label.
• Gift box & tissue paper.
• Hand-assembled in our Sonoma County California BUG studio.
* Highest-rated real framed insect displays in the world.
* Most competitors frame their insect displays with just basic picture frame glass that does not protect the vivid colors from UV rays.  We use 99% UV blocking TRU VUE conservation glass, the same used in fine museums around the world.