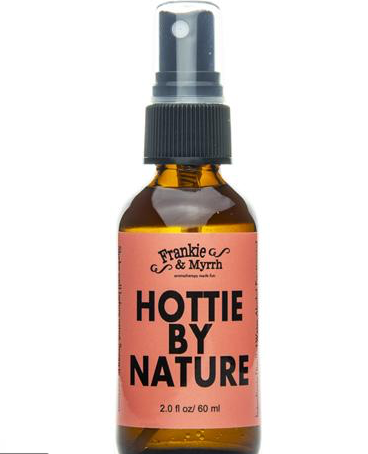 Natural Spay - Hottie By Nature
Regular price $19.00 Sale
Hottie by Nature was the first spray that I developed. It is one of the scents I use the most. It is a fruity, citrus smell with hints of wood and vanilla. It literally smells like a sexy pile of creamsicle sticks. I call it my "anti-drama queen" spray. When I smell it, I just find it hard to be upset. Hottie By Nature is the best selling scent in our store. I think this one, more than any other scent we have, puts smiles on people's faces.

Imagine how when you smell orange juice, it kind of wakes you up and calms you down at the same time, right? Citrus is absolutely amazing! We often suggest it for daytime stress when very often most of your stress hits you, and you don't want to be sedated.

The distinct middle note of the blend is sustainable Rosewood essential oil. Rosewood adds a very pleasant woody, fruity smell that gives the blend more depth. Orange and Tangerine add the uplifting citrus top notes to the blend. Lavender adds a soothing middle to top note. A touch of Vanilla strengthens the base, giving the scent more staying power.
2oz/60ml
INGREDIENTS: Distilled Water, Alcohol, Essential oils of Rosewood, Orange, Tangerine ,Lavender and Vanilla
***This blend contains pure vanilla CO2 extract... the good stuff... the real stuff.  It's hard to find... VERY hard to find!  The price of vanilla continues to rise dramatically as it becomes rarer, and the price of this product will reflect that.  Get it while you still can. Thank you!*** 
-Frankie and Myrrh