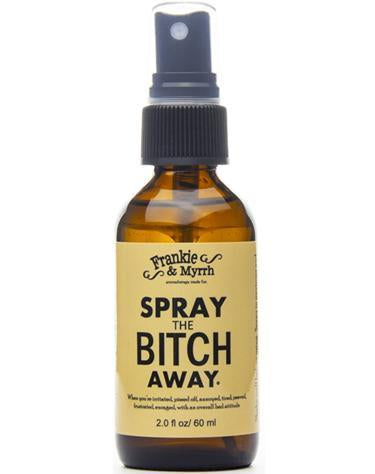 Natural Spay - Spray The Bitch Away
Regular price $19.00 Sale
I'm a bitch sometimes, and that's awesome. Here at Frankie and Myrrh, we think "bitch" is just another word for "a woman who gets stuff done."
But for the times you don't want to feel like a bitch, we created Spray the Bitch Away. A blend of light and calming essential oils come together for a refreshing and relaxing experience you just have to feel to believe.
To help with PMS, hot flashes, menopausal issues, and overall general bitchiness, we use the two oils considered to be the best for those issues: Rose Geranium and Clary Sage. Then we add Lavender, Bergamot, and Frankincense, which all have a calming effect.
2.0 fl oz spray in a glass bottle.
INGREDIENTS: Distilled water, Alcohol, Fractionated Coconut Oil, Essential Oils of Lavender, Bergamot, Clary Sage, Geranium, and Frankincense.
-Frankie and Myrrh